Justin Sturges, Head Brewer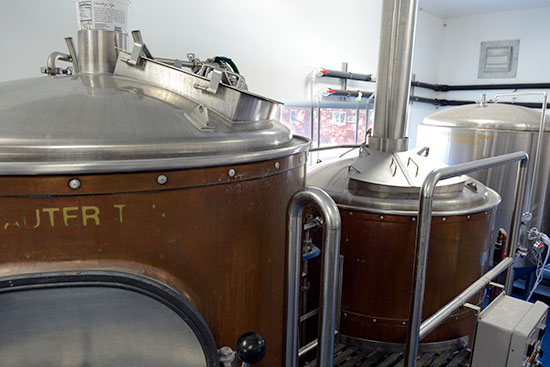 Justin Sturges was born and raised in northern Vermont, surrounded by the early craft beer scene and several cows. He left a successful career in stage lighting in New York City to study brewing, graduating from American Brewers Guild in 2008 and joining  Captain Lawrence Brewing in 2009.
He worked his way up from packaging technician to shift brewer to Experimental Brewer (which really means head of R&D, not something psychedelic), seeing the company through a major expansion and move to a new facility. At its peak, he was managing a cellar of nine 1400-gallon oak foudres and hundreds of 55-gallon oak barrels as well as designing and producing the sought-after IPA can releases at Captain Lawrence.
He left Captain Lawrence to open and head (as Head Brewer, of all things) River Outpost Brewing in Peekskill, NY, a destination brewpub on the Hudson River. He used to kayak to work there, a job perk you should all seek out.
Justin has brewed beer around the world, notably with Gorilla Brewing Company and Galmegi Brewing Company, both in South Korea.
He spoke at the 2017 Great Korean Beer Festival and is believed by some to have brewed the highest-ABV craft beer in Korea. The yeast used to produce said beer was definitely not smuggled in from New York.
Justin has designed and executed hundreds of unique recipes, as well as collaborating with dozens of bars, restaurants, and breweries. He focuses on using local and exotic grains, hops, fruits, vegetables, and spices. His farmer friends are used to his outlandish requests by now, and he still refuses to brew a tomato beer for them.
His awards as part of a team include TAP New York Best Brewery in the Hudson Valley and silver medal for Imperial IPA, and Great American Beer Festival (GABF) medals in the Experimental, American-style Sour, Wood-and-Barrel Aged Strong Beer, and Begian-style Lambic or Sour Ale categories. His own Flaming Fury won bronze at the 2018 GABF. Also the   decided to reveal his age and publish a bizarre blurry picture of him when they featured him in the Sunday Metro Section.
When you come visit Rip Van Winkle, or see us out in the world, say hi to Justin, he'd love to hear what you think and give you a sample of what he's working on next!
10 Step Brewing Process
Steep pre-milled malted barley in hot water approximately 90 minutes in the Mash Tun. This process converts the available
starches into fermentable sugar.
Drain (Lauter) the Sweet Liquor (Wort) from the Mash Tun into the Kettle.
Begin the boiling process which is approx. 90 – 120 minutes.
Hops are added at various times during the boil to add bitterness, flavor and aromatics depending on the beer style being brewed.
At the end of the boil, the Wort is whirl pooled to collect any particulates from grain and hops, at the bottom center of the Kettle.
The liquid Wort is then pumped from the Kettle through a Heat Exchanger into a Fermentation vessel to cool down. Pure oxygen is injected into the solution for a healthy fermentation.
Yeast is then added to the oxygen rich Wort. The yeast, a living organism, absorbs the oxygen and consumes the sugar creating
alcohol and carbon dioxide as a byproduct. This process can take 2 – 6 weeks depending on the beer style.
Once the yeast has consumed all the sugar (Attenuation), the temperature is lowered to almost freezing to put the yeast in a
lethargic state.
The yeast then falls (Flocculate) to the bottom of the vessel. Since yeast is a living thing, it can then be harvested to use again.
The finished beer is filtered and racked into conditioning/serving vessels ready for consumption.