History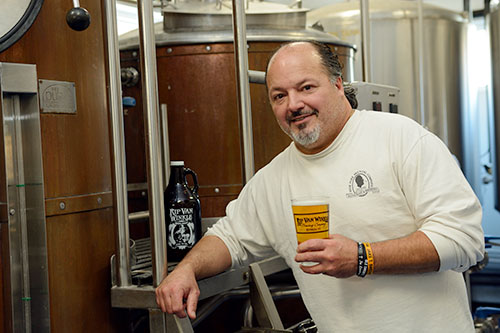 The LoBianco family story begins with Tony immigrating from Sicily to New York City in 1954. In the next eight years he learned a trade in auto repair. In 1961 Tony married his sweetheart Angela and started a family. During the next twelve years Tony built a successful auto repair business. In 1973 Tony and Angela saw an opportunity to leave New York City and landed 100 miles north in Kingston. There, Tony went into the food business with the help of a longtime friend.
In the last 43 years the family has opened a dozen restaurants from Kingston to Clifton Park. Over 20 years ago Tony, along with his two children Joey and Angela ventured into the brewing industry by opening Dutchess County's first Restaurant Brewery, the Hyde Park Brewing Company. It is and continues to be one of the Hudson Valley's longest running breweries.
In 2014 the LoBianco's added a brewing system to another one of their restaurants. Angela's in Catskill has been a Greene County staple for over 30 years. When it was decided that it was time for a change, a brewing system was added and the Rip Van Winkle Brewing Company was created at Angela's.
Here the brewery will accommodate off premise sales to other bars and restaurants in the surrounding area. There are eight beers on tap, one of which is made solely from New York ingredients. In February of 2017 Rip Van Winkle Brewing Co. won Silver and Bronze medals for two of its beers. Our craft brewery was also awarded Best in New York State for the Munchner Helles style.
Check out our story here!
Who was Rip Van Winkle?
Rip Van Winkle was a fictional character from a short story by Washington Irving published in 1819. The story's setting takes place in the mountain range behind the restaurant.
While hunting one day Rip came upon the ghosts of Henry Hudson playing Nine Pin. After drinking some Ale that was offered to him, Rip fell asleep for twenty years.